GRWN Skincare
Regular price
Sale price
$26.00 USD
Unit price
per
Sale
Sold out
Get real results with our 3-minute microneedle delivery system. ICE ME OUT releases key active ingredients deep into the skin to reduce inflammation, inhibit bacterial growth, and promote faster healing from acne.
That means:
Better healing of early-to-mid-stage acne.

Less irritation.

Reduction in the size and redness of acne spots.

Minimized post-inflammatory hyperpigmentation.
For use on active or new acne. Do not use on old dark spots.
Only ship to US.
View full details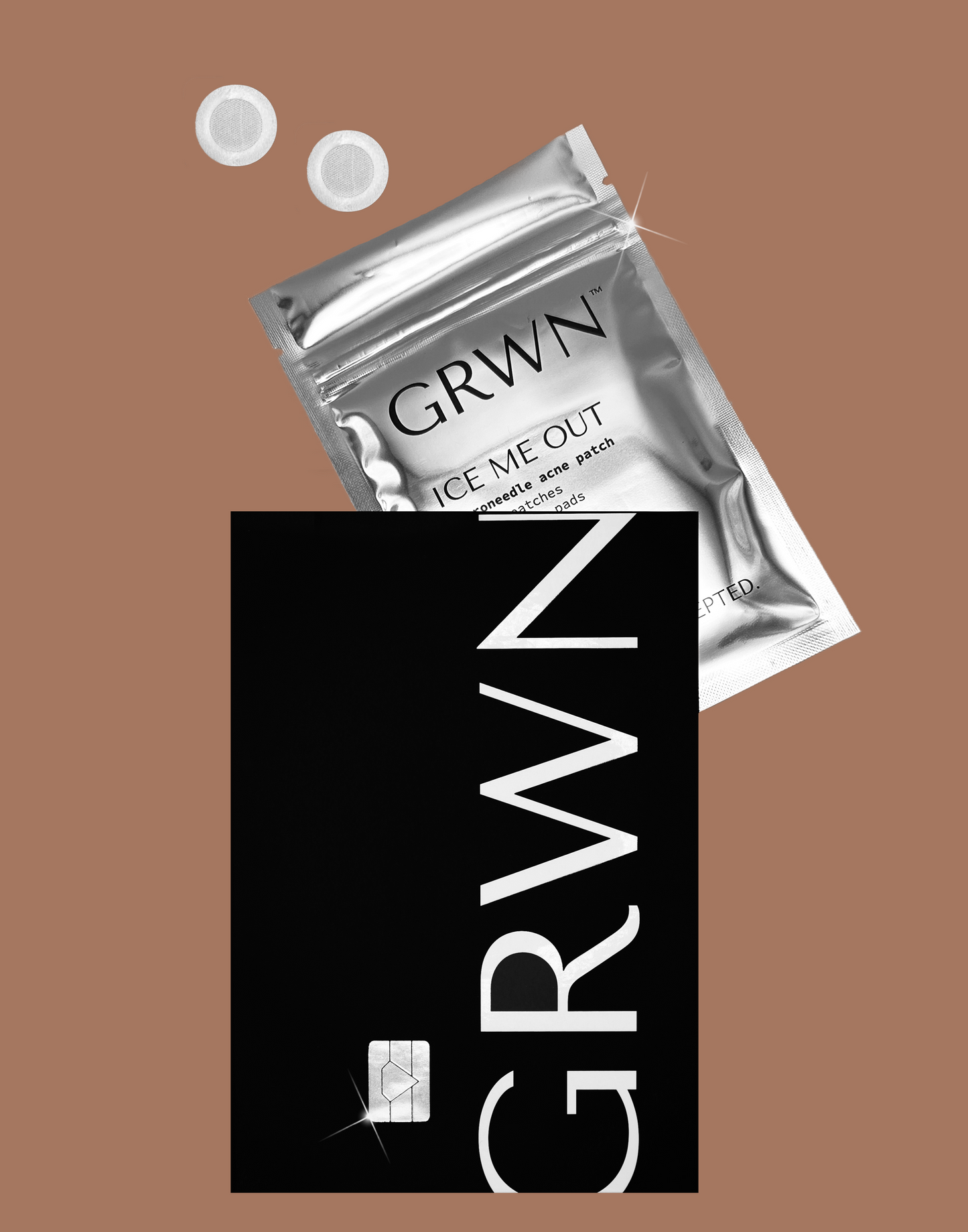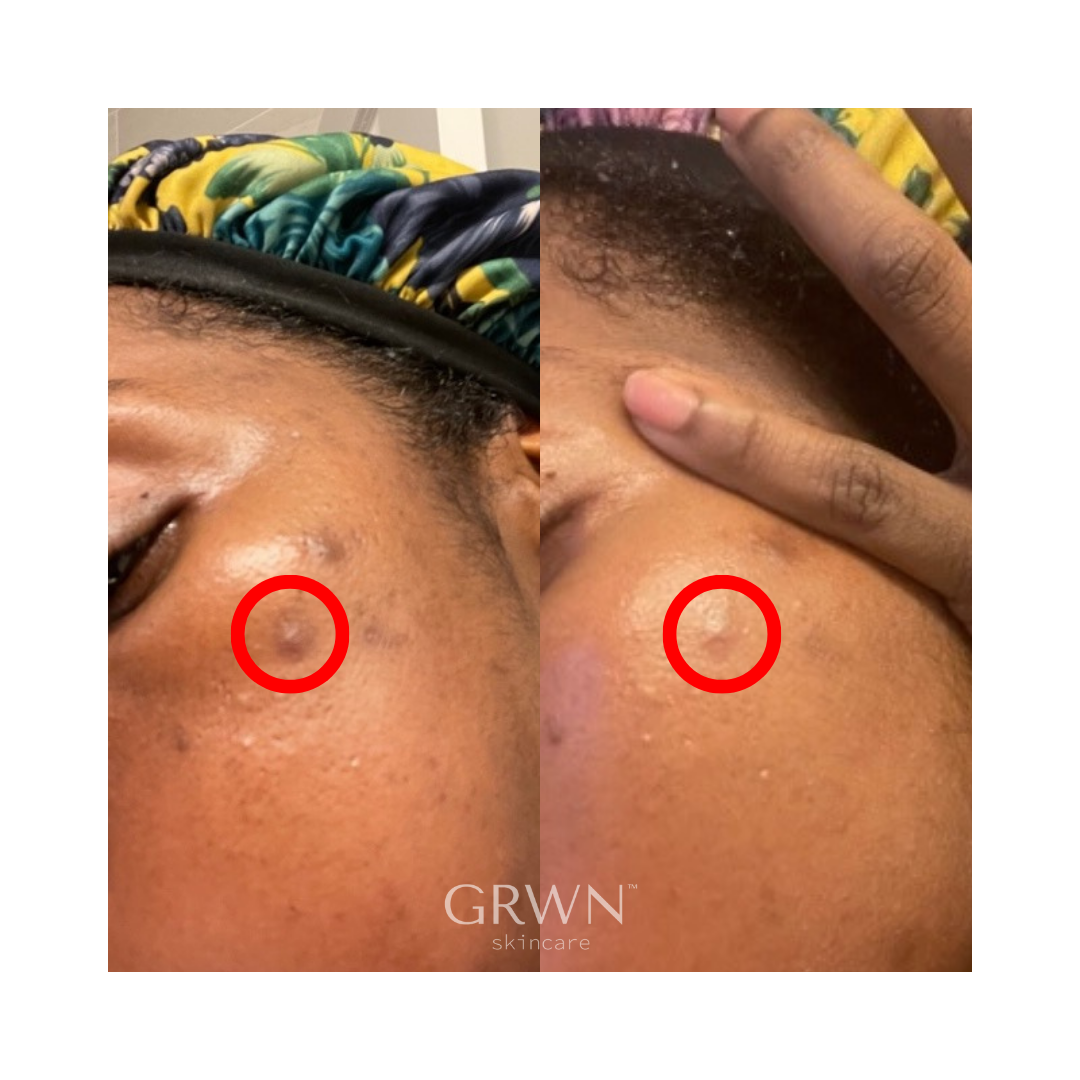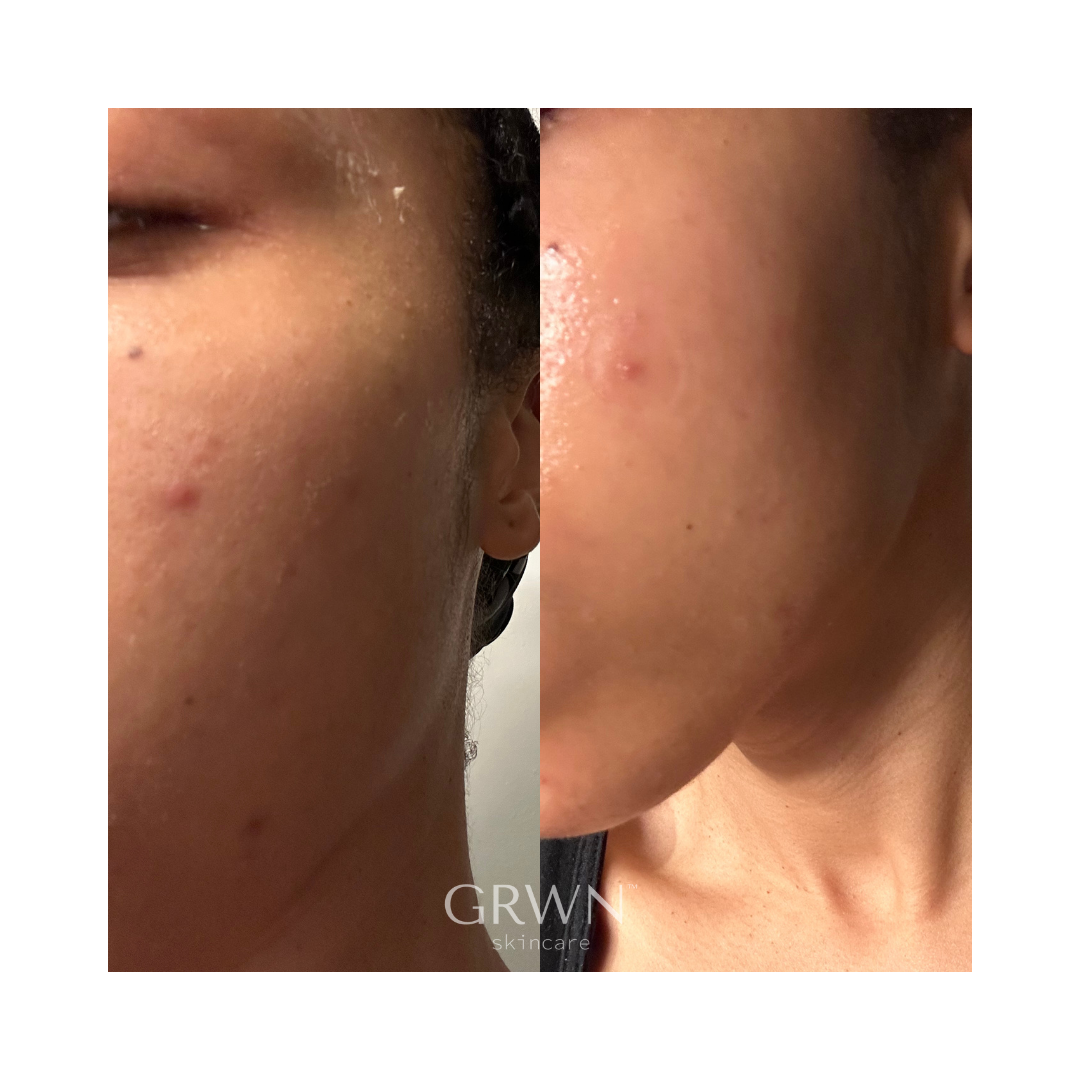 BE AN INFORMED HOTTIE
INGREDIENTS

Acne Patch: 

Sodium hyaluronate, Trehalose, Polyvinylpyrrolidone, Syzygium aromaticum (Clove) extract, Centella asiatica (Gotu kola) extract, Melaleuca alternifolia (Tea tree) extract, Sorbitol, Succinic Acid, Phenoxyethanol, Salicylic acid, Glycyrrhiza glabra (Licorice) extract, Beta Glucan, Benzoic acid, Benzalkonium chloride, Quaternium-73

Detaching Pad: 

Water, Niacinamide, Phenoxyethanol
DROP THE ROUTINE

CLEANSE and thoroughly dry your skin.

APPLY Patch 01 to acne blemish. Remove the clear plastic without touching the microneedle area, and gently press down for 5 seconds to adhere to the skin. 

COVER Patch 01 with Patch 02, the detaching pad, for 3 minutes. Lightly press the detaching pad to spread the moisture evenly across the microneedle acne patch.

REMOVE patches and continue with your skincare routine. 

After use, do not layer actives like retinol, AHA, or BHA. Apply a thin layer of vaseline or moisturizer over the spot and continue your skincare routine. 

For stubborn cases like blind pimples, etc., we recommend following the first 3 steps and leaving the acne patch on overnight.
WHO SHOULD USE IT

Ice Me Out is for the occasional break-out girlies who struggle with post-inflammatory hyperpigmentation from acne.
WHO SHOULD AVOID IT

People who experience severe acne or cystic pimples should not use this product. It is not an effective treatment for dark spots.
WHAT TO EXPECT

Expect reduced redness, inflammation, irritation, and size of early-to-mid-stage acne. 

After applying the acne patch, you may feel some prickling on your skin. That's just the microneedles getting to work. 

After removing the acne patch, you might see some redness in the application area that should disappear within a few hours. 

When you remove the patch, you may notice leftover residue on the base from the dissolved microneedles. This solution is safe and can remain on your skin for added topical benefits.
HOW OFTEN TO USE

Use twice daily (morning and evening) or leave the patch overnight for 3-4 consecutive days. 

Apply patches every week until you reach your desired results.
WHEN WILL I SEE RESULTS

You'll be selfie-ready as early as 48-72 hours for most inflamed acne. Stubborn acne, like blind pimples, may take a bit longer.  

Don't trip: Your acne may look worse before it looks better.

That's just how the healing process works, especially in melanated skin. It's completely normal. You'll be glowing in no time.
The Acne Blueprint!!
I get hormonal breakouts along my jawline as a result of PCOS and not only is my acne painful, but the pimples also leave behind dark marks when they heal. I used these patches to stop me from picking at my skin and bring my cysts to a head and they did just that! I love the darts that dig into your skin. These patches are really revolutionary because they lightly penetrate your skin and suck out all the pus/sebum instead of just sitting on the surface and doing nothing! I recommend these for everyone especially my melanated girls that suffer from cystic acne!
Restocking as soon as I can!
I typically only have a breakout 1 week before my cycle. Welp! these arrived at the perfect time. I had 3 pimples in my t-zone area. I followed the 2 step directions that came with kit and it was pretty straight forward. I went on as usual with my skincare routine. One week later, they've healed. The spots left are not super dark as they typically are. The dark area is also much smaller... This product worked exactly as described!! I will definitely be repurchasing as soon as I can! I believe this product will have me more easily maintain an even skin tone with less need to clear super dark spots.
poof be, gone!
I tried the pimple patch for five days, and I was thoroughly impressed. My pimple began to noticeably shrink in size in just a few days. The process was quick and painless. I applied the patch for a few minutes, and poof be, gone! The patch also lightened up the dark spot that the inflammation from the pimple tends to leave behind. I strongly suggest using Ice Me Out acne patches if prone to random pop-ups- as it does the job QUICK.
The game changer I didn't know I needed until I tried it
Although I don't suffer from adult acne, I get occasional breakouts, especially under-the-skin pimples. Initially, my pimple became flat and dark. I could tell the patches were helping to heal my pimple from deep within. I really started seeing results after 4-5 days of completing a series of patches. The microneedle acne patch definitely did its job, and my acne spot lightened up beautifully. The patches worked better than the superficial topical treatments I would typically use. Honestly, this was the game-changer I didn't know I needed until I tried it. I will be adding this to my routine for sure.
Minimal hyperpigmentation
The acne patches are easy to use and quickly alleviated my breakouts, leaving me with minimal hyperpigmentation. I would suggest them to anyone dealing with minor breakouts here and there. And if you are a pimple popper like me, using the patches is a great way to prevent picking. Pimples go away so quickly, you won't have anything to pick at.